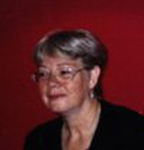 Christina Manolescu
Bachelor of Arts, Honours, Literature
Teaching English as a Second Language, TESL certificate
CHRISTINA MANOLESCU
is a teacher and author-publisher. Her published work, including theatre arts critique and translation, has featured in local newspapers, educational journals, technical publications, special interest newsletters, non-fiction books, commercial and community web sites, and closed captioning for feature films.
Her illustrated poetry and prize-winning fiction have appeared in print, on the web and on CD/DVD, under the imprint, Prince Chameleon Press:
www.princechameleon.com

She has published two novels, BAGLADY, and WALDENSONG SATURNALIA. The sequels, BAGLADY-IN-WAITING and BAGLADY-AT-LARGE, as well as a children's novel, THE GHOST GUARD will follow soon.
As guest visitor and panelist for organisations, libraries and primary schools in Canada and the UK, she has staged readings of her work and given workshops on Self-publishing. As an active member of the Small Press Group of Britain, she co-organised their annual small press fair in Westminster, London, UK, in 1994.
Having trained in Computer Graphics and Digital Imaging at the Rosemount Technology Centre, she founded a Writers and Self-Publishers Network, Invisible Cities, based in Montreal in 2001:
www.InvisibleCitiesNetwork.org

---